The History of a Chair-making Family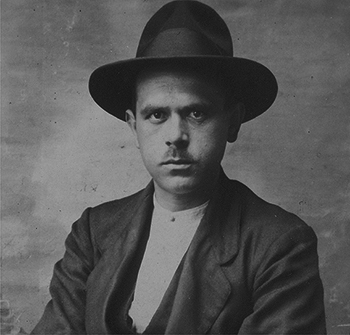 Chairs have been in the Medeossi family's DNA for 4 generations.
It was Antonio, as a matter of fact, the great-grandfather of EUROPEA's owner (1860-1908) who in 1890 had already declared himself to be a "chair-maker" in public documents.
Following his death at an early age, his wife Maria Luigia (1867-1936) and daughter Anna (1891-1966) took over the reins of their family activity.
In 1914 Anna married Costantino Medeossi (1890-1969). The grandfather joined his wife and mother-in-law's business. As a matter of fact, in 1922 the Chamber of Commerce officially attested the registration of the business activity of a "chair factory". The chairs that were then being manufactured were almost exclusively with straw seats. In 1936, the first factory was built where 3 workers worked alongside the owner.
At the end of the war (1945) Valerio Medeossi (1915-1992) took over the reins of the company from his father and went headed in developing it.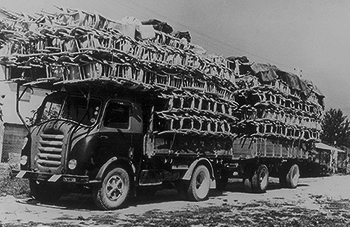 A new factory was built in 1951. This was further expanded in 1956, and later in 1964.
In the 1960s, the production range comprised chairs with seats with curved elements as well as with plywood or padded seats.
At the same time, new products were inserted in the catalogue: a phase of commercial expansion started in the 1960s: while relations with wholesalers were developed in northern Italy, collaboration with sales agents was started in southern Italy.The market therefore underwent profound modifications: chairs were increasingly sold through furniture manufacturers that further complemented their range of products with chairs in their style and finishes that best suited the furniture sold by them and the chairs sold by company underwent a rapid commercial obsolescence.
In 1977 Valerio closed down his own company due to health issues.However in that same year, his son Costantino who had undertaken a quite different way, had become a partner in an already existing company that manufactured chairs and that had Germany as its main market. During the 1990s this business activity developed in Great Britain and in the USA.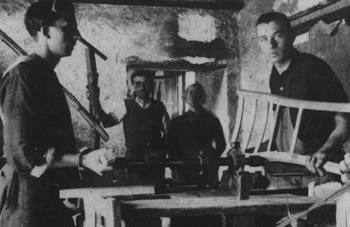 In the middle of the 1990s Costantino decided to accept the challenge of his forefathers and together with his wife Flavia created a new company: EUROPEA. France then became its main market, thanks to his collaboration with sales agents, whose activities covered the entire Hexagon.
The activity took off rapidly and today France is the main sales market.